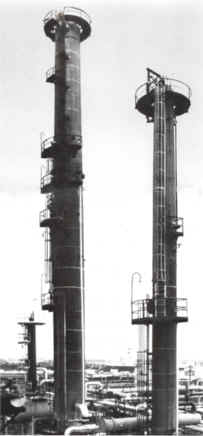 Today, the world of petrochemicals is an ever-changing frontier. Creativity and flexibility are the tools of survival. For twenty-three years, Neochem has been an innovator and problem solver for the petrochemical industry. Neochem began as a major supplier of diisobutylene for the North American markets, and continued to become a diversified supplier for other markets throughout the United States, offering the choice and security of numerous feed stock sources. Through constant attention to customer needs and a watchful eye on market trends, Neochem has been known as an enabler that can help a company meet itís goals with the utmost professionalism and confidentiality.
I
n the early eighties, the gasoline market was changing rapidly.

The removal of lead from gasoline made finding a cost effective octane enhancer a priority for every domestic gasoline producer.

In 1981, CR&L/Neochem catalytic distillation technology made possible the first MTBE refinery in the USA.

The technology is licensed all over the world to companies like Exxon, Amoco, and Mobil.

In fact, more companies have licensed the catalytic distillation technology than any other.

Always ahead of the curve, the people at Neochem donít react to changes, they anticipate and invest in them.
N
eochem is always ready to meet the demands of customers for special application products.

When a customer needed it, Neochem split and offered diisobutylene 2 from diisobutylene 1.

When every other company had left the triisobutylene market, Neochem obtained and held a supply for a customer.

Willingness to go that extra mile to help our customers achieve their goals is always a priority at Neochem.
N
ow we are looking into the next Millennium.

The globalization of formerly niche markets through advances in communication and tightening of government regulation over the entire industry present new challenges and opportunity.

Through careful planning and an eye always on the future, Neochem is ready to tackle whatever challenges you and your company may encounter.

A necessary question now is if MTBE and sulfur are reduced in gasoline, how will it affect your company and your economics of business? Please click here and let us know how we can contact you to discuss the coming changes in the industry.

Letís chat.

All inquiries are handled in the strictest confidence, so there is never a leak of proprietary information.

Send us your ideas and problems, and let the experienced chemical marketers at Neochem help turn them into profitable realities.
Neochem Corporation
One Corporate Plaza
2525 Bay Area Blvd., Suite 455
Houston, Texas 77058
Tel: 281-461-8155
800-569-3720
Fax 281-461-8153
General Email: info@neochem.net or
Contact Direct: